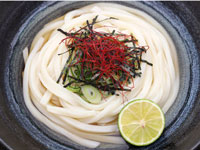 Sanuki-Udon(Cold, Bukkake Udon)
Home > Kagawa

It is eaten in Kagawa Prefecture in general.

Raw Materials: Wheat flour, Salt
Sanuki-Udon

Sanuki-Udon" became known throughout the country after the Osaka World's Fair. So why was this "Sanuki-Udon" born?

The climatic conditions and soil in the Sanuki region, such as warmth and little rain, made it suitable for the cultivation of wheat.
Salt production has long been active along the coast of the Seto Inland Sea, and high quality natural salt has been produced there.
Shodoshima is one of Japan's most famous soy sauce production areas.
It was a treasure trove of anchovies, the raw material of which is used for "dashi" (Japanese soup stock).

I think there is a lot more to it than that, such as the cultural background and the relationship with rice grains.




The "cold bukkake udon" I had at the Sanuki-udon restaurant was topped with grated radish, green onion and lemon, and the cold juice was in the bottom half of the bowl. The udon is more than twice as long as regular udon, and it is quite thick and strong in the waist. When I stirred them and tossed them into a bowl, it was very delicious. I'm also surprised that lemon goes so well with udon.

That's what Sanuki-Udon is all about. It's okay to have one more drink. I think it's good even if you eat it only with soy sauce.



Afterword)
The feature of the Sanuki-Udon is the strength of the hips that comes from "stepping on the foot". An automatic noodle making machine that reproduces the "waist strength" has been developed, and Sanuki-Udon shops have started appearing all over the country. The Sanuki-Udon in Kagawa, the home of the Sanuki-Udon, has been attracting more and more attention.

Kagawa Prefecture prides itself on being Udon Prefecture (the "Udon Prefecture" trademark was registered in 2012). The tourist spot, Kinpira-san, has an "udon taxi" with a Sanuki-Udon object on its head, and the taxi will take you to a delicious "udon shop".

Also, Kagawa Prefecture people eat about 200 udon balls a year on average. Of course, "udon" is the best way to get together at a party.