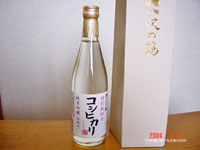 Nada's Japanese Sake Sawano-tsuru
Home > Hyogo

Sawano-tsuru Co., Ltd.
5-1-2 Shinzaike Minami-machi, Nada-ku, Kobe City, Hyogo, Japan

Junmai Gin Koshihikari
Raw Materials: rice, rice mills
slightly sweet, 15.8 degrees
Nada's Japanese Sake

As an amateur, I thought that the best places for sake were the Tohoku region, where Nanbu's brewery is located, and Niigata, where rice is produced. But that's not really the case: sake is Nada.

The reason why sake is called "Nada" is because in the Edo period (1603-1868), when muddy sake was the norm, they created sake that was beautifully clear. The five areas in the eastern part of Kobe City are called Nada Gogo, and the breweries in those areas still account for nearly 30% of the national share of sake (2004).




I didn't know anything about it, so I bought something called "Sawano-tsuru Specially Grown Rice, 100% Koshihikari, Pure Rice Ginjo, Kimoto-zukuri" from "Nada's Japanese Sake".

When I smelled the sake in the sake cup, I smelled the sweet aroma of the sake, and when I put it in my mouth, it had a mellow texture. Hmm, very easy to drink, good sake. Considering the name of this sake, I think it's better to drink it after it's cooled down a bit~. Well, let's not talk about sake any more, shall we? I'm being scolded by a connoisseur.



Afterword)
Incidentally.
Unpasteurized sake: unpasteurized sake that requires refrigeration.
Junmai-shu: no alcohol added

p.s.
Just to add, the beauty of sake is that it's made in Tsuzuura all over the country. And there are many different kinds of liquor stores, from small liquor stores in small towns to large liquor stores, and the tastes are all the same and unexpectedly different.

If we're going to distribute them abroad from now on, it's not good to have a big bottle, but a wine bottle would be just right. The 1.8L of the basic form was stopped, and it became about 720mL. I don't know if it's already happened.