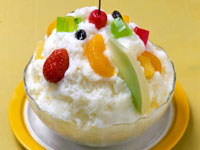 Nangoku-Shirokuma
Home > Kagoshima

Seika-shokuhin Co., Ltd.
3-10 Shimotaniguchi, Ijuin-cho, Hioki City, Kagoshima, Japan

Kind: Lacto-ice / 4.0% non-fat milk solids, 1.0% milk fat, 0.1% vegetable fat

Raw Materials: dairy products, high fructose corn syrup, fruit syrup (mandarin oranges, pineapple, sugar), sweet red beans and natto, sugar, powdered syrup, vegetable oil/sweetener (sucralose), acidity
Shirokuma-Ice

Shirokuma-Ice (Kori-Shirokuma) Shirokuma-Ice (Kori-Shirokuma) began at the beginning of the Showa era A restaurant called Watamaya which used to operate in Kagoshima City, Kagoshima Prefecture, served a summertime meal with lavish fruit and other toppings. It started when they sold shaved ice cubes (there are many theories). Soon, it became so popular that it is now a summer specialty of Kagoshima, and at that time of the year, the city This "Shirokuma-Ice" (ice white bear) is on the menu as a matter of course at many restaurants. It is said to be added.

Around 1969, Seika Shokuhin (also known as Bontang Candy) made this Nangoku-Shirokuma", the ice cream cup version of "Shirokuma-Ice". Once we started selling them, the cup of ice cream caught on, and all the manufacturers began to sell similar products I heard that the "Shirokuma-Ice" war had broken out. By the way, even in the "Nangoku-Shirokuma" series of this Seika Foods, the "Nangoku-Ice" war broke out. They say there are 19 different types, and if you add that to the other manufacturers', it's a ridiculous number of Shirokuma-Ice is.... Mmmm, that's a great idea.

Well, that's about it, but I just happened to find this classic "Nangoku-Shirokuma" (probably the cheapest in the series) at a local supermarket and decided to try it.




This "Nangoku-Shirokuma" looks extremely shabby. And when I took off the lid, it looked even sadder. But now that I've thought about it, it's rare to see an ice cream with the real thing in it so clearly! ~~. Oh, it looks like a fruit mitsumame~.

And when I tried it, I realized it's condensed milk ice cream~. The sweetened azuki beans (sweet red beans and natto) gave the ice cream a mumbling feeling, and the mandarin oranges gave it a flavor that was particularly appealing. Pine shows a strong personality and is refreshing for a moment... Oops, this isn't as bad as it seems. It's a decently satisfying ice cream that overcomes my initial impression of it being cheap.

Yes, it's good. I guess it's going to live forever~. Well, all ice creams are delicious, though~.