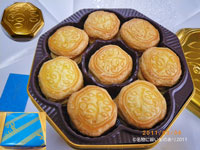 Hanatsubaki-Biscuit Gold can
Home > Tokyo

Shiseido Parlour
8-3 Ginza 8-chome, Chuo-ku, Tokyo, Japan

Product Name: Hanatsubaki-Biscuit Gold can
Category: Baked Confectionery
Raw Materials: Flour, Sugar, Margarine, Compound Butter, Chicken Eggs, Salt, Expanders, Flavoring, (Soybean included in some of the ingredients)

Best-Before Date: 90 days from making at room temperature

There are White can, Gold can (doubled), and Black can (hand-baked/exclusive)
Hanatsubaki-Biscuit

Sheseido Parlour in Ginza, Tokyo is a parlour with a history of over 100 years. Hanatsubaki-Biscuit, the first candy made by the parlor, has been a long-time seller since the early Showa period (1926-1989), and is still a popular specialty biscuit.

When you say "since the early Showa era", does that mean that the Wwii fire also came through? Incidentally, Shiseido Parlour is a subsidiary of the cosmetics company Shiseido.




When you open the octagonal Gold can, you'll find it's filled with the Shiseido logo. When I picked one up and smelled it, it smelled good, like those sweet cookies. If you close your eyes, you will be drawn in and fall in love with the garden. When I came to my senses and tossed it into my mouth, a simple, adult-flavored cookie slipped by with a crunchy, light footstep.

Let's see, if you look closely, the surface is shiny and it looks like something sweet has been painted on it. The size is about the size of a ping pong ball, and the thickness is quite thick, and there is a sense of solidity. Once you start eating it, it's hard to stop. This is ahead of its time (now) rather than the early Showa era, even now. Yeah, it's good.

It's the right time of year (that's when I ate it), so it's perfect for White Day.