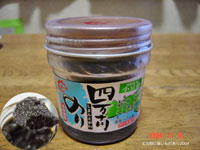 Shimanto-River-Nori
Home > Kochi

Shima-Noka Co., Ltd.
182 Umaki Kabuto, Shodoshima-cho, Shozu-gun, Kagawa, Japan

Category: Seaweed tsukudani
Raw Materials: Seaweed (50% from the Shimanto River), soy sauce, sugar, honey, starch syrup, seasoning (amino acids, etc.), thickener (tamarind), colorant (safflower yolk, gardenia), agar, souring agent, (some ingredients include flour)
Shimanto-River-Nori

One day, when I went to Kochi on a business trip, I saw a souvenir shop at the airport selling "Shimanto River Nori" (seaweed). The Shimanto River is a river, isn't it? I thought again that the river is a place where Nori can be harvested. But I've never heard of it on any other big river. Well, Shimanto River is said to be the last clean river, so I wonder if we can get edible Nori.

Just a side note: When I was traveling in Kochi, the souvenir shop was lined with these "Shimanto-River-Nori" and whole dried bonito flakes. As a side note, there was also a canner sold as if it were a set.




Ah, it's been a while since I've eaten anything. When you pour it over rice, it's delicious. The cheap Iwanori often sold in supermarkets has a soy sauce-like (reddish-black) color, but this one has a blackish-greenish color, more like the color of seaweed. It's not just the nori, but the rice goes well with the nori and other side dishes are likely to be left over. It's also salty, but it has a sweet taste to it.

For some reason, this seaweed is "Made in Shodoshima". I wonder if there are many tsukudani shops on Shodoshima, where soy sauce is produced.