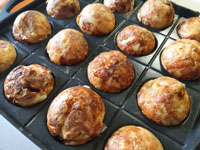 Naniwa-No-Aji Originator Takoyaki
Home > Osaka

Aizuya
2-3-1 Tamade Nishi, Nishinari-ku, Osaka City
Takoyaki

Takoyaki is an Osaka specialty that needs no introduction. It's now made and sold all over the country, so let's stop kudging. But this time, I'm going to eat "Takoyaki" from Aizuya in Osaka, which is said to be the originator of Takoyaki.




When I opened the box about an hour after I bought it, I found that it had shrunk to a flat piece. There was a good smell in the air, and it was more like a shrimp than a takoyaki. The original Takoyaki is eaten without any sauce or anything else, and when you take a piece of the original Takoyaki into your mouth, you can taste the big octopus on your tongue. Both the dough and the octopus have a firm (Japanese style) flavor, and since there is no sauce, the taste is milder.

Hmmm, it doesn't have much impact, but it's light and tasty. It's good cold, but it's even better when it's freshly baked. Thanks a lot, guys!



Afterword)
The original Takoyaki was first sold with soy sauce because the sauce was not available at that time because it was too expensive. It is said that the manufacturing method remains the same today.

p.s.
One day, "What's your Osaka souvenir? I saw that they are conducting a questionnaire on the Internet for the Well, it's a good thing that "Takoyaki" is in the top rankings, but I noticed that "Takosho" was featured in a closeup among the many Takoyaki stores. Why? Then I thought, "Takosho" is always found in souvenir shops at Osaka stations and airports, isn't it? Well, the business skills of Takosho are amazing.