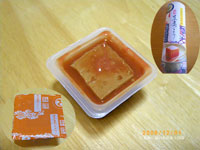 Ryutan Tofu-Yo
Home > Okinawa

Co., Ltd. JCC
4-16-16 Nishizaki-cho, Itoman City, Okinawa, Japan

Category: Tofu processed food
Raw Materials: tofu, rice malt (yellow koji, red koji), awamori, salt

Selected old sake (Koos)
Fermentation proceeds over time because of the live koji bacteria.
Tofu-Yo

There are almost no people who have never eaten Tofu-Yo. Tofu-Yo is a traditional food of the Ryukyu Kingdom. It is a delicacy made by fermenting island Tofu(*1) with Awamori and koji. You can eat it as it is with sake, or use it in cooking. But when I heard that it was made from Tofu (written as "rotten beans"), I couldn't reach for it. I guess it's human nature not to have one.

So, I took the challenge (on behalf of myself). In the meantime, I found a Tofu-Yo that won the Monde Selection 2007 Gold Award. (Trust me) Feel free to challenge it.

(*1) Shima Tofu: A Tofu of Okinawa, the Tofu of the mainland is boiled and then squeezed. Boil. He says it's dense and heavy.




I opened the lid and took a sniff. Hm? It smelled lightly of alcohol. I sniffed again, and I felt choked. I thought it was better not to bite down too hard. I scraped off a little with a toothpick and tried to eat it in a scary way. It's like sake cake! The texture is a net feeling like raw chocolate. Yes, I could also smell the aroma of Awamori. But don't get carried away.

It's hard for a beginner to know which parts to enjoy. Maybe I should eat it (while listening to the explanation). Hmmm, I'm holding off.



Afterword)
Tofu-Yo is a combination of koji bacteria that try to ferment and alcohol that try to suppress fermentation (decay). The fight keeps the balance intact and produces a well-balanced and delicious Tofu-Yo. If the balance is lost, the result is a bad Tofu-Yo, which is shunned by people. There is. Eventually it became a legend.