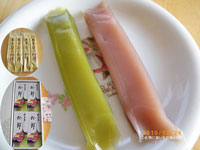 Originator Hondaya's Uiro
Home > Yamaguchi

Co., Ltd. Hondaya
9-26 Sodayu-cho, Yamaguchi, Yamaguchi, Japan

Category: fresh confectionery
Product Name: Hondaya's Uiro (Azuki, Matcha)
Raw Materials: Sugar, red beans, white kidney beans, bracken flour, maltose, wheat flour, trehalose, matcha

Best-Before Date: 20 Days
Uiro

There are many theories about the origin of Uiro, and it is a surprisingly popular candy that is made all over the country. Nagoya's "Uiro" is particularly famous, and it is still Japan's leading producer of "Uiro," so famous throughout the country that the word "Uiro" conjures up images of Nagoya.

After Uiro came to Yamaguchi, "bracken powder" was added to the food, which gave it a different flavor. What's more, they also have raw Uiro, which can only be eaten in Yamaguchi. But I can't go there this time, so I'm going to try the usual Yamaguchi Uiro instead of the raw one...



Afterword)
Incidentally, in Yamaguchi, Uiro, a maker called Toshiro, is famous for the theme song played in a local TV commercial.





When I opened the paper box, there were four small boxes with two more Uiros wrapped inside. Open the package of the Uiro and look at it, ho ho, this is definitely a Uiro, its appearance. There was no smell, and at the moment I ate it, it had the same unique flavor as "Uiro" in Nagoya.

After eating a little more, it seems that this one has a more chewy and smooth texture compared to the Nagoya one. Hmm, is it because of the bracken powder... It is slightly sweet, and the light flavor is very easy to eat, and before I knew it I had eaten quite a bit. The matcha tea has a mellow matcha aroma and is very good.

You may not be able to see it in the picture, but it's a little thin and small for the price, which may be unsatisfactory. But I guess it's just right as a souvenir from work.