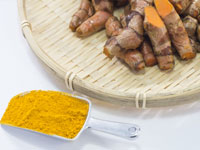 Ucchin-Cha
Home > Okinawa

Noji-Kumiai-Hojin
Okinawa Pharmaceutical Herb Cooperative Association
1235-1 Aza Kombu, Uruma City, Okinawa, Japan

Category: Ucchin-Cha
Raw Materials: Autumn turmeric (Okinawa)
Ukon

Ukon(turmeric) is one of the most popular Okinawa souvenirs. Ukon is a popular drinker's drink to heal a weakened liver. Apparently, this one works well. If it works, I guess we have to be careful about the side effects on the flip side.

However, Ukon has surprisingly blended in with everyday life. It is also used in curry and pickled vegetables such as soy sauce (I see, the color is also yellow). In Okinawan dialect, it's called "uchin", which means "Ukon", which is commonly referred to as Aki-Ukon.




[ This time at "Uchin-Cha" ]
If you look at the teabag, you can see that it's chopped up Ukon root or it's sprouted. When you smell it, you can't describe the unique smell and the poisonous yellow color. I recommended it to my family, but they didn't like it because of the way it looked. When I drank it alone, the aroma and taste were the same. It's not on the level of being good or anything like that. It's like something between a medicine and a tea.

I couldn't drink the Ukon (powder) that my acquaintance gave me before because it was too strong, but the Ukon tea this time was mellow and good. I drank it for a few days and it started to feel sweeter and sweeter. You might even fall in love with it. It seems like the fatigue after drinking is gone. (If you're feeling tired, you should cut down on the alcohol...)



Afterword)
One day I was watching a TV program called "Takeshi's Family Medicine" and I heard that turmeric (Ukon) is effective in preventing dementia. Apparently, "A 10-year study of Indians who eat a lot of curry (which contains a lot of turmeric) and Americans who don't eat much, found that the incidence of Alzheimer's among Indians was about a quarter.

Also on another show, "Do Indians really eat curry a lot? We found out that Indians eat it every day, and some of them eat it every morning, noon and night.

So, I bought Ukon tea again.