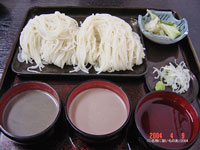 Shiroishi-Umen
Home > Miyagi

Shiraishi City, Miyagi Pref.

Raw Materials: flour and salt water.

Best-Before Date: Roughly six months to a year
Shiroishi-Umen

Shiroishi-Umen is a hand-pulled "udon" (dry noodles) that I learned about for the first time when I came to Miyagi. The photo shows a hot noodle dish called "Aji Sanshoku", which I ate at an old-established restaurant in Shiraishi City with three kinds of sauce: sesame, walnut and soy sauce. How unique it is to eat somen (or something like it) with sesame and walnuts.

Shiroishi-Umen has been introduced on TV and other media as "noodles without oil to be gentle on the stomach". For a second, huh? I thought, but I heard that ordinary somen noodles (Miwa somen, etc.) are kneaded and stretched and then coated with edible vegetable oil (cottonseed oil, etc.) to prevent them from sticking to each other. Hiroishi-Umen, on the other hand, does not use oil and dusts it with flour to prevent it from sticking.

It's easy to say, but the reality is that it's a lot of work. And I don't mean to speak ill of "Miwa Somen", but even if you use oil, you won't feel the oil when you get to the stage of eating it. This is just a description of the process.




Shiroishi-Umen is a round noodle about the thickness of a hiyamugi, and the best thing about it is that it is short. It's probably about half the size of a regular somen. Because of its shortness, it can be eaten in an elegant way. You don't have to do it sluggishly, but it feels like it goes in smoothly. The taste and feel of the noodles is no different from cold barley or somen. But it's really good~.

Well, there are shops that entertain their customers with a three-color dipping sauce... Otherwise, it's just dried noodles that can be made at home...