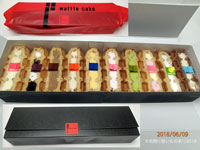 Waffle Cake
Home > Hyogo

Waffle Cakes Store R.L(RL's)
Maker: Co., Ltd. Kubo tetsuya studio
4-10-21 Kano-cho, Chuo-ku, Kobe City, Hyogo , Japan

Category: Western-style fresh confectionery
Product Name: Waffle Cake 10 pieces
Raw Materials: waffle mix flour (wheat flour, sugar, glucose, etc.), foods made from milk, etc., eggs, custard cream, chocolate custard cream, etc.

Expiration Date: When you receive it, you have until the next day.

How to Store: Requires refrigeration (keep below 10°C)
RL's Waffle Cake

I was reading an article on the internet about the "classic pastry in the basement" and I couldn't help but be drawn to the Kobe Waffle Cake...I've lost my heart to Waffle Cake in Hiroshima the other day I can't help but be drawn in by the visual.

By the way, RL's Waffle Cake is sold in basement of department stores all over the country and is not localized anymore, but I thought I'd try it as a specialty of Kobe, the home town of RL's.

So, what are RL's? The shop started out as a "first-class architect's office", then architecture, then furniture, then tableware, then It is said that his interest in food has gradually shifted to food. What's that?




When I opened the box, oh, the visual was just as I expected. The same shape and form as the picture I saw before I ordered. Lemonade, Raspberry & Pudding, Tiramisu, Plain, and Vanilla. Custard, strawberry, azuki bean, chocolate, matcha, and maple".

When you try the vanilla at the end, you can smell the cake and taste the sponge. Cake and whipped cream... that's no cake at all. And yes, it was good. Next, I ate azuki beans and whipped cream, which was also delicious~. And I ate two of them after dinner, but it seemed that my stomach, which was supposed to be full, was triggered by a different stomach, so I ate them without difficulty. I sucked it in. And I thought that two is not enough.

At first, these looked so good that I thought they would be good in moderation. But when I tried it, it was even better than I expected. The next day, I tried the chocolate, raspberry and pudding, and lemonade, but they were all delicious! , it's fluffy again and I can't get enough of it! Add this to your favorites.

Oh, this is sudden, but the one that suddenly came to my mind for no reason was Ume Dora (Ibaraki).