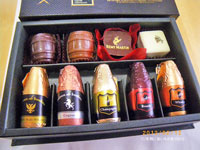 Bonbon-Collection
Home > Hyogo

Goncharoff-Seika Co., Ltd.
3-1-10 Mikagetsuka-machi, Higashinada-ku, Kobe City, Hyogo, Japan

Category: chocolate candy
Product Name: assorted chocolate
Raw Materials: sugar, cocoa mass, cocoa butter, wine, whole milk powder, vegetable oil and fat, cocoa powder, lactose, skimmed milk powder, starch syrup, liquor, cheese powder, dextrin, cream powder (dairy products), sugar (maltose), basil, trehalose, emulsifier, flavoring, coloring (titanium dioxide, yellow 4, caramel, yellow 5), antioxidant (sulfite, V.E), (some ingredients include soy)

Best-Before Date: It was about three and a half months later.
Whisky Bonbon

The once-popular Whisky Bonbon (1970s). It's long gone, but once a year, on Valentine's Day, there's a moment when it's just the right moment to open a flower.

The first person to make Whisky Bonbon in Japan was Makar Goncharov (founder of Goncharov Confectionery), a Russian who escaped the Russian Revolution and arrived in Kobe. It's now a thriving store that sells its products to department stores all over the country and has its own stores. Goncharov is a bit conspicuous and a bit "naughty" in Japan, as he has filed a lawsuit against Monchez, the maker of the Dojima roll.




From among the many chocolates, this time I would like to introduce you to the bonbon collection.

When you open the box, you'll find bottled chocolates and other items filled with several kinds of alcoholic beverages. It comes in three different shapes: bottles, barrels and tablets. So, I took a bottle of single malt whisky at random, and whoa! The feeling of the liquid inside... When I threw it into my mouth, I found that there was a liquid liquor syrup inside, just as I had expected, and there was a surprising amount of it. I tasted it, and yes, it's sweet and delicious.

Next, I tried the barrel-shaped chocolate, and needless to say, it was filled with liquor syrup. Each of the syrups has its own unique and mellow aroma that attracts and fascinates adults. This is good, adult taste, umachalov. I want it again.

Incidentally, the chocolate contains "whiskey, single malt whiskey, brandy, red wine, rosé wine, rum, cognac, champagne ganache, and orange liqueur ganache".