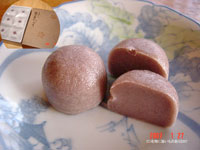 Yamadaya-Manjuu
Home > Ehime

Co., Ltd. Yamadaya
528-1 Kabuto, Horie-cho, Matsuyama City, Ehime, Japan

Category: fresh confectionery
Product Name: Yamadaya-Manjuu
Raw Materials: Red beans, sugar, wheat and yams
Yamadaya-Manjuu

Yamadaya-Manjyu" in Matsuyama City has been making this product for 140 years and has been passed down from generation to generation. What's more, Yamada-ya (the manufacturer) only makes this Yamadaya-Manjuu.

Eh, just such a simple-looking bun... Hmmm, if you say so much, I can't help but eat, which one is it.




You can't really feel it when you see the picture, but this bun is quite small. It was one or two sizes smaller than a ping-pong ball. The color is purple and the inside is the same color. The crust was a bit hard on the inside, so it felt like the crust was forming naturally.

Well, it looks like a rice cake, but when I tried it, it was a Japanese sweets. Unlike modern Japanese sweets, it has a simple and simple taste, which can be called the taste of the old days. Hmm, I wonder if it was such a bun even 140 years ago. If that's the case, it's a wagashi that allows you to go back in time... Hmmm, I guess it's an ordinary good taste nowadays.

p.s.
This "Yamadaya-Manjuu" seems to be one of the most famous manjuu (manjuu) in Japan. Why, why, why.