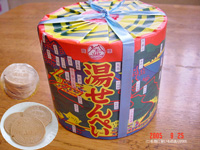 Yu-Senpei
Home > Nagasaki

Maker: Shindo-shoten
Kita honmachi, Obama-cho, Unzen City, Nagasaki, Japan
Shop: Hayashida-kamaboko-ten
431 Kitano, Obama-cho, Unzen City, Nagasaki

Category: Confectionery
Product Name: Obama-Yu-Senpei
Raw Materials: flour, sugar, chicken egg, salt spring, expander
Yu-Senpei

Yu-Senpei" is a specialty of Kohama Hot Springs in Nagasaki Prefecture. Kohama Onsen is an isotonic hot spring, which is one of the darker saline springs in the world. The key to making these rice crackers is how much and when to add the hot spring water to the rice crackers, which is what Yu-Senpei was made from.

A friend of mine in Kagoshima told me before that in Kyushu, people often don't put a turbid point on their names. The friend's name was Matsuzaki, but he got angry if I didn't say "Matsusaki" instead of "Matsuzaki". So I guess they call this rice cracker "senpei" instead of "senbei"...




When I opened the cylindrical, old-fashioned, fancy package, I found a round "Yu-Senpei" that looked at first glance like a Kobe gauffle, or even like the ingredients for an ice cream cone cup. The size is less than 10 cm in diameter and the smell is similar to a corn cup. When I tried it, the texture was a little hardened corn cup, and it seemed to have a unique aroma, similar to a southern cracker or a kawara cracker.

In a word, it's a pretty simple rice cracker that looks like a corn cup + (wheat type) rice cracker. It's not enough to make you want to eat it, but when you try it, it's not even a manzara. If you eat it freshly baked on the spot, it might have a different taste.