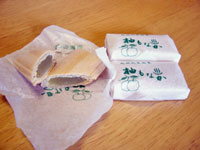 Yuzu-Monaka
Home > Wakayama

Co., Ltd. Fukukame-do
3031-223, Shirahama-cho, Nishimuro-gun, Wakayama, Japan

Category: fresh confectionery
Raw Materials: glutinous rice, white bean jam, sugar, water candy, yuzu paste, coloring (safflower yellow, gardenia blue pigment)
Yuzu-Monaka

I saw "Yuzu-Monaka" at a product exhibition. It's a famous confectionary representing Kishu, a confectionary that has been handed down in Shirahama Onsen since long ago, and it's a Monaka made from the peel of yuzu from the local Kumano mountains. I don't know what to say, but Yuzu Monaka is pretty rare. But it seems that there are many shops in Wakayama that make this "Yuzu-Monaka".

By the way, "Yuzu-Monaka" is one of the Premier Wakayama Prefecture products recommendation system (as of 2004). In 2018, when I checked again, there are so many products registered in this system, it seems that all the products from Wakayama are listed...




I was drawn to the yuzu package and bought "Yuzu-Monaka". When I opened the box, I was greeted by a very small Monaka. I realized that there was such a small Monaka, and I was interested in it. As I took a bite, the smell of yuzu spread from my mouth to my nostrils, and I knew that it was a small, but strong Monaka with a strong presence. Hmmm... but since it's so small, the satisfaction level of these sweets may vary from person to person.

The size was about one size larger than a matchbox. It's so small that it doesn't get in the way of my baggage...



Afterword)
I later found out that this "Yuzu-Monaka" is sold in many shops in Wakayama. The Yuzu-Monaka shops that the locals seem to be pushing are like Minato-ya, Fukuryo, and Shunkaan Kadoya.