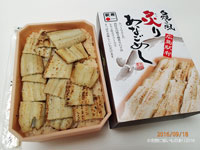 Roasting Anago-meshi
Home > Hiroshima

Hiroshima Station Bento Co., Ltd.
5-1-2, Yaga, Higashi-ku, Hiroshima City, Hiroshima, Japan

Category: Bento
Product Name: Roasting Anago-meshi
Raw Materials: soy sauce rice, roasted conger Anago, lemon juice, seasoning (amino acids, etc.), caramel, sweetener (licorice, stevia), preservative (polyridine), processed starch, acidity, sodium acetate, trehalose, glycine, (contains wheat, milk, soybean), domestic rice

How to Store: Avoid direct sunlight and high temperatures and high humidity.

Anago-meshi

When I was watching TV the other day, I heard that "Anago-meshi" is one of the specialties in Hiroshima. I found out that there are many restaurants that serve "Anago-meshi" in the Miyajima area. I've heard that it smells so good all over the place, it invites you in. Speaking of the author's sense of conger Anago, you can find it at the end of a nigiri sushi (set menu). Form. No, I don't need it, but it's something I have to have because it's there. And why do they celebrate the conger as the main dish?



Afterword)
According to the Hiroshima Prefecture website...

In 2008, Hiroshima Prefecture caught 163 tons of Anago in Hiroshima Prefecture, mainly in bottom trawling, cylindrical fishing and longline fishing. Anago caught in Hatsukaichi City's Ohno Seto, where the tide is fast, is said to be particularly tasty and is known as "Anago of Seto. It is also known as "Anago".

Anago is used as a garnish for sushi rolls, and Anago rice cooked with Anago broth and topped with kabayaki is a Hatsukaichi City specialty.

Incidentally, Hatsukaichi City is the city where Miyajima is located.




(That's why I found an eki-ben that was sold at a product fair.)

Well, it's pretty small (but it's thick), and when you open the white box, it's colored There were a lot of grilled conger eels spread on top of the seasoned rice. Ho ho ho, he was trying to win a contest of conger eels alone! Taking a sniff, I could smell the aromatic aroma of grilled conger eels. When I ate it, it was fluffy and very soft, and I could taste the rice that was cooked in the broth of the conger eel. If you put them in your mouth, they are delicious.

At first, I was surprised at the pale appearance of this one color, but when I tried it, I found it surprisingly satisfying. It was. But I felt that the quantity was not enough. My tongue is telling me that I want to make a crispy daikon radish That's right!