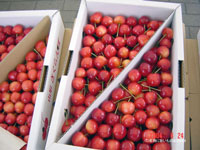 Yamagata's Cherry
Home > Yamagata

JA Higashine
1390-1, Higashine-ko, Higashine City, Yamagata, Japan

Seasons: Sato Nishiki: Mid-June to early July for open cultivation, late May to early June for greenhouse cultivation (less acidity than open cultivation)
Cherry

Speaking of Yamagata, the red jewel of cherries is the overwhelming production of cherries in Japan. The king of cherries is Sato Nishiki. It looks so delicious that I can't help but eat it. But it's so beautiful that I don't even want to eat it.

Cherries (Sato Nishiki) can only be eaten during a limited period of time, from late June to early July. Moreover, it is a precious fruit that loses its freshness easily and is finished in an instant. I have an acquaintance in Yamagata who sends it to me (for a fee) when the season comes, and every year he asks me, "If you don't do it soon, it will be gone. It's not that they're trying to make a business out of it, it's that they're really going to disappear. It's like a cherry blossom, it's over so quickly. If you want to eat delicious cherries, it's best to make a reservation in advance and have the freshly picked cherries sent to you.




Sato Nishiki is one of the sweetest of the cherries. When I send them to my relatives as a gift, they praise me, saying "I've never eaten such a cherry before" (probably as a compliment). It has just the right amount of acidity and a very elegant taste. It's fun to open the box to see how it will be this year...

Well, the most delicious thing is picking cherries from the tree at the site.



Afterword)
It is said that cherries used to be yellow, as they used to be sung, "Here, here, yellow cherries". The reason for this is that when the rains hit during the rainy season, the flesh cracks, so they were harvested and shipped before then (they didn't taste good because they didn't over-ripe). Later, a method of cultivation with a transparent roof was invented, and the ripe red berries can be eaten today.