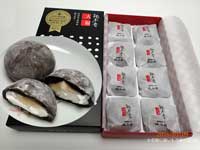 Ginburo-Daifuku
Home > Kochi

Co., Ltd. Saijyokan
2-5-34 Kamimachi, Kochi City, Kochi, Japan

Category: Japanese fresh confectionery
Product Name: Ginburo-Daifuku
Raw Materials: white bean paste, mixed flour (glutinous rice flour, sugar, starch, salt), food made from milk or other ingredients (reduced starch syrup, processed oils and fats, sugar, skimmed milk powder), sugar, maltose, cocoa powder, kidney bean powder, emulsifier, processed starch, sorbitol, stabilizer (polysaccharide thickener), charcoal, sodium caseinate, sodium phosphate, flavoring (including milk, soybeans, and gelatin).

Best-Before Date: A little over two and a half months when it arrived.

How to Store: Freezing (-18°C or less)

Ginburo-Daifuku

I was walking around on the internet when I suddenly saw something that was a black daifuku, and I stopped and groaned I've done it. Its name is the mysterious "Ginburo-Daifuku". Well, I don't care about the black rice cake, but the creepy name of Ginburo is I can't leave this one behind~. According to the advertising slogan, it is a "JAL First Class Member" daifuku.

Ginburo is a bean that has been eaten since long ago in Otoyo Town, Kochi Prefecture, and it looks like a black soybean. It is said to be a lustrous black bean that looks like a kidney bean. Recently, it has been re-evaluated and is now available to the public little by little.




We received them by cooled courier service, and after 2 hours of natural defrosting, they seemed to thaw quite nicely. It looks like (according to the instructions, it's thawed in the refrigerator for 4/5 hours). When I took it out of the bag, it was dusted with white powder and not as black as I thought. And the smell was ? I can smell something cocoa! When I cut it open, there's a white cream inside that takes up the center of it, and on top of it, it's like some kind of colored jam. was in there. It's kind of intriguing, the way you look.

You put it in your mouth and then, oh? White cream and chestnut bean paste (actually, there's no such thing in there) with a hint of cocoa, after all. Like~. Needless to say, the black part on the outside is a soft cake. I can smell the aroma of cocoa from there. Yeah, they all match up nicely together. Well, the easiest way to describe the overall atmosphere would be chestnut monaka ice cream. My wife also smelled the roasted beans...

Well, it's very elegant and delicious. The one that immediately came to mind is Kikufuku (Sendai's Daifuku). If I had to pick a weak point, I'd say it was the fact that there were so many ingredients in it that I couldn't get a clear picture of what Ginburo was all about... That's where it is!