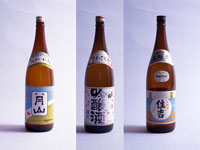 The best Ginjo Dewa-zakura
Home > Yamagata

Hamada Co., Ltd.
943-1 Fujiizumi, Kubota-machi, Yonezawa City, Yamagata, Japan

15-16% alcohol content
Raw Materials: rice, rice malt, brewing alcohol
Sake in Yamagata Ginjo sake

As you know, the reason why Niigata and the Tohoku region has so many sake breweries is because they have many rice breweries. Surprisingly, however, when I looked at the list of winning sake at the 2003 National New Sake Brewing Competition, I found that Yamagata 24, Niigata 22, and the following Tohoku prefectures had won more than a dozen gold awards. What is noteworthy is that Yamagata overtook Niigata for the top spot, with Yamagata and Niigata coming in second place.

Incidentally, there are different types of sake.

Fustu-shu (alcohol added, etc.)
Honjozo-shu (alcohol content of 25% or less)
Junmai-shu (rice and rice koji only)
Ginjo sake (Honjozo type Ginjo and Daiginjo, Junmai type Ginjo and Daiginjo)
The ratio of polished rice (the percentage of rice remaining after polishing) is 60-50%, and Daiginjo is less than 50%.




I got a Ginjo sake from Yamagata, the only one I could find at a nearby liquor store.

From the moment I opened the lid of the sake bottle, a sweet aroma came into the air. When I poured it into the chocolate and took a sip, it tasted like something I had never tasted before. There is a zesty spiciness in the fruity sake, which is somehow very good. So this is what Ginjo sake is all about. Heh, I didn't realize it was so different. If it's this good, Japan's Ginjo sake is sure to make a breakthrough in the world one day. But it's expensive, and the price.

Incidentally, the nationally (among connoisseurs) most famous of the Sake in Yamagata is the Juyoshiyo (Murayama City), and the generally famous Dewazakura (Tendo City). Also, many of the breweries in Yamagata are small, right?