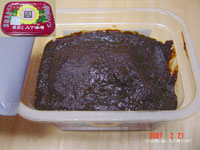 Kakukyu Akadashi Haccho-Miso
Home > Aichi

Co., Ltd. Haccho-Miso
69 Aza Okan-dori, Haccho-cho, Okazaki city, Aichi, Japan

Category: seasoned miso
Raw Materials: soybean miso (soybeans, salt), rice miso (soybeans, rice, salt), water candy, caramel color, sake, seasoning (amino acids, etc.)
Haccho-Miso

I still can't forget the first time I drank "Haccho-Miso's Miso soup" in Nagoya. When I ordered a set meal at a suitable diner in town, it was served with miso soup which looked black. My eyes went blank and I would stick my neck out in front of me and peer into the bowl without blinking my eyes.

Haccho-Miso is one hell of a miso, mainly made from steamed beans, with soy malt and brewed over a long period of more than two summers. Hatcho" is derived from the name of a place in Okazaki City. This time, we had one of Haccho-Miso's "Akadashi Miso". Incidentally, "Akadashi Miso" is a mixture of Haccho-Miso and rice miso.




When I opened the lid of the pack, I saw that it was black, as expected. Upon closer inspection, it was reddish-brown and burnt black, with a very nice, savory aroma of miso. I took a little lick to try it and found it to be very smooth and creamy on the tongue. (Is it a characteristic of Akadashi Miso?) There were small droplets of soybeans that were different from the beans in some places, and the soybeans were nowhere to be seen, with no shadow or shape. Yes, this has a unique flavor that is different from ordinary miso. It's not miso, it even seems like a different kind of food.



Miso soup The miso soup is still dark brown and smells very good even though it is like mud. When I took a sip, I found this to be a strong flavor and delicious. The wakame flavor of the filling didn't detract from it, although, well, the potatoes were brown on the surface. While it was hot, I drank it quickly and finished it.



Afterword)
In 2017, a new landmark called "Okazaki Kakukyu Hatcho Village" will appear in local Okazaki. Three famous restaurants in Okazaki city will offer ramen, curry and cafe menus using Haccho-Miso, respectively. The miso storehouse built in 1907 (Meiji 40) is a registered cultural property of Japan, and the Haccho-Miso building in Kakukyu can be seen.