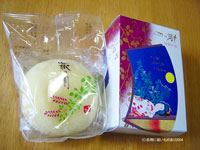 Hagino-Tsuki
Home > Miyagi

Kasho-Sanzen factory
18 Horyomae, Oya, Ogawara-machi, Shibata-gun, Miyagi, Japan
Kasho-Sanzen Head Office
2-14-18 Omachi, Aoba-ku, Sendai City

Category: fresh confectionery
Raw Materials: Milk, eggs, sugar, flour, reduced water candy, dairy products, butter, maltose, starch, glycine, emulsifier, flavoring, expander

Best-Before Date: 10 days
Hagino-Tsuki

Hagino-Tsuki" is a famous confectionery that children associate with something by its round shape, and they are happy and shy while saying things like "bald moon". Some of my friends have requested that I buy it when I go to Sendai. It's rare to get something delicious as a souvenir, but if you buy this one, you're almost sure to be delighted (except for some bigots). Nowadays, there are a lot of similar products on the market like "Moon of XX" or something like that, and it seems to have become a genre.

Hagino-Tsuki is packaged one by one in a dignified package, giving it a sense of luxury. The beauty painting on the box was made by Hayashi Shizuichi, the author of "Koumechan".




I took it out of the box, unwrapped it, and did the ritual "sniffing" (my own). When you try it, the texture is similar to the cream of a cream bun, but naturally the custard cream flavor is better than that. The outer crust of the sponge cake is moist and the cream inside gives a sense of unity. Yes, no matter how many times you eat it, it's still delicious. It's so light and understatedly sweet that I wanted to go for as many as I could, but this luxurious feeling put the brakes on (me).

However, it has a short shelf life (maybe a week or so; 10 days after production, to be exact), so you should eat it as soon as you receive it. You can eat it cold in the refrigerator.



Afterword)
Hagino-Tsuki was created based on the image of combining the popular "cream puff" of the day and the most luxurious "Nagasaki Castella" of the day. However, the custard cream didn't last very long, so he added ageless (oxygen absorber*1) to overcome this problem.

It didn't sell very well at first, but its popularity gradually increased after it was used as an in-flight meal on a passenger plane, and it exploded when Yumin (Yumi Matsutoya) said on a late-night show that it was delicious.

*1)
Hagino-Tsuki was the first company to use oxygen absorber in food. The result of research by the previous president and his classmates.

p.s.
Hagino-Tsuki is made in Ohgawara-cho, Miyagi Prefecture. The outlet store that was built near the factory recently sells outlet products including this Hagino-Tsuki, and it seems to be gaining popularity.

・2017.07 Seven Premium's "Torokuraku Cream no Fuwakoro", which has been on sale since April, is similar to Hagino-tsuki's. It is named "Generic Hagino-Tsuki" by some fans.