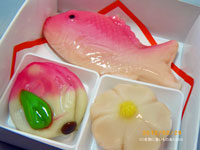 Hina-Gashi
Home > Yamagata

Co., Ltd. Maruhachi
75-1 Aza-Gotanda, Todoroki, Shonai-machi, Higashitagawa-gun, Yamagata, Japan

Product Name: Hina-Gashi
Raw Materials: an, sugar, maltitol, oligosaccharide, white egg powder, agar, colorant (cochineal, gardenia)

Contents: 3 kinds (sea bream, peach and cherry blossom)
Box size: 11cm×11cm×4.5cm
Best-Before Date: 14 Days
How to Store: room temperature
Hina-Gashi

Yamagata's Sakata was once known as "Sakata in the West and Sakata in the East". In those days, Ohina-sama was gorgeously decorated by its wealthy merchants as if they were competing to make an offering to the Sweets became an extravagant fusion of Edo and Kyoto cultures. This tradition has been popularized and continues to this day, and every year at the time of the Hinamatsuri (Doll's Festival), we see the bright colors of fresh The confectionery is displayed in supermarkets and other stores in Sakata and is enjoyed by many locals. It's something that has been made in the past.

By the way, Hina-Gashi in Sakata is mainly known for their fresh Japanese sweets called "Nerikiri", which are filled with red bean paste. This time, we'll have three of them: sea bream, peach, and cherry blossom. By the way, there are many more varieties made locally.




The actual box was unexpectedly small (11cm square). The "sea breams, peaches and cherry blossoms" were so vivid and beautiful, and also looked delicious. The dough was white with koshi-an (sweet red bean paste) in the center. And when I ate them, I found that they were truly fresh confectionery! It's okay, it's sweet. Hmmm, the taste level is average.

This is more worth looking at than eating. It's more like a flower to decorate the center of the table. It's true that if you don't focus all your attention on the exterior appearance, you won't be able to make something like this~. Wait for a moment, I want to display it without eating it, Hina-Gashi.

p.s.
The "Hina-Gashi making" in the Shonai region is said to be done from the end of February until around the peach festival (April 3rd) of the lunar calendar.



Afterword)
The same type of "neri-kiri" sweets were eaten on New Year's Day from Hokkaido to Aomori, and were called kuchitori.

Kuchitori was also served in Tokyo and other areas during the Showa period, and was served at ryotei restaurants and as a part of the traditional Japanese cuisine. This "take-out" is also used to accompany wedding gifts and the fathers' folded gifts to take home after the banquet. They used to be. No, I don't think it's gone, but I still see them from time to time.