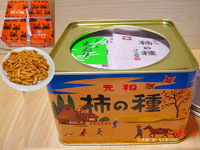 Naniwaya-Seika Originator Kakino-Tane
Home > Niigata

Naniwaya-Seika Co., Ltd.
2680 Settaya-machi, Nagaoka City, Niigata, Japan

Product Name: Originator Kakino-Tane
Category: Rice crackers
Raw Materials: Glutinous rice, rice, starch, soy sauce, salt, red pepper, seasonings (such as amino acids), caramel color, red koji color, paprika color, emulsifier, (Some of the ingredients include wheat, soybeans, chicken, and mackerel).
Originator Kakino-Tane

Kakino-Tane is now one of the most popular beer companions in the country. Before I ate it, I thought I could eat it or not, but once I did, I couldn't stop.

This Kakino-Tane was born in a sweets shop called Naniwaya in Niigata, Japan, and was created by chance from a random incident (a machine broke down). It has become the most popular rice cracker in Japan. Coincidences are terrifying. This is a "Kakino-Tane" that cannot be conceived by a human brain alone. I'm sure that the evolution of the natural world is also born from such coincidences. It's just a coincidence that I'm living here and now, too. You too...




The picture of this can is so heartwarming and beautiful.

I also tried another Kakino-Tane (the best-selling maker, Kameda's). The color of the Originator is much darker. The smell of soy sauce is also strong. When I tried it, it didn't look so different. In terms of strength, the Originator has a bit of a pungent taste after eating it. A dull person might not understand. But it's good.

Hmmm, but how good it tastes with peanuts. I wonder if this strange collaboration can be understood by Westerners as well. Even if it's in a store, Westerners might not buy it. First, I have to let them taste it.



Afterword)
After that, around 2015, Kameda's Kakino-Tane became popular in the US and Europe as well. Well, with the Japanese food craze, Kameda's Kakino-Tane is getting a lot of attention. By the way, I heard that they are called kameda crisps. Of course, it has peanuts in it.