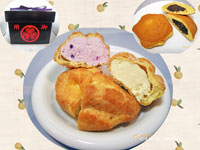 Big King Set
Home > Saitama

Kameya (more than 220 years old)
4-3, Naka-cho, Kawagoe City, Saitama, Japan

Kawagoe Imo-Cream-Puff (sweet potato)
Category: Western-style confectionery
Product Name: Kawagoe Imo-Cream-Puff sweet potato
Raw Materials: sweet potato, Egg, vegetable oil and fat, flour, milk fat, milk, sugar, starch syrup, skimmed milk powder, salt, trehalose, glycine, polysaccharide thickener, flavoring, emulsifier, acidifier, pH adjuster, processed starch, coloring (V, B2, carotene), (some ingredients include soy)

Best-Before Date: About 10 days at the time of delivery
Store in the freezer (-18°C or less)
Kawagoe Imo-Cream-Puff

In the old days, after the Great Kanto Earthquake, the production of dagashi was replaced by the production of Tokyo's dagashi, which led to the development of confectionary making, and at the height of the early Showa era, about 70 confectionaries flourished. Well, there are still more than two dozen confectionery shops that entertain a lot of tourists.

From Kawagoe, where there is such a confectionery alley, I decided to try some sweets from Kameya, a long-established shop that has been working for the Kawagoe clan for a long time.




On the black-painted box is the word "Go-Yo" and "Aoi no Imoujo". No, it's pretty cool. This means that people related to Tokugawa were in the Edo period. Then, I took out the following sweets from the inside.

The "Kamedora" is shaped like a turtle and is a small dorayaki, as you can see. The crust looks like a pancake, and when eaten with the red bean paste inside, it tastes a little like a Western-style dorayaki.

The "potato puff" is also a potato-shaped cream puff, and the inside is also made of potato cream. When you eat it, the aroma of sweet potatoes is full. When I tried the other one, the Murasaki sweet potato, it didn't have as much impact of flavor as it looked. Yes, but overall, this "Imoshu" is not bad. Maybe it's a good souvenir to take home with you.



Afterword)
Incidentally, Kawagoe used to be a sweet potato production area, and that's why many sweet potato confections are still made there today.