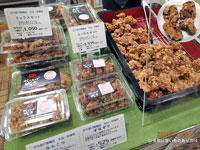 Nakatsu-Karaage boneless
Home > Oita

Karaage Daikichi
2-3-3 Okidai-machi, Nakatsu City, Oita, Japan

Raw Materials: Chicken, apple and soybeans, wheat flour

Nakatsu-Karaage

It seems that people in Kyushu like chicken. The first three places in the chicken meat consumption rankings (for the six years prior to 2013, according to the Ministry of Internal Affairs and Communications) are all in Kyushu (with a few Yamaguchi prefectures on occasion). Of these, Oita Prefecture has reigned supreme for five years. But in 2013, Miyazaki Prefecture was overtaken by Chicken Namban, and all hell broke loose. Still, it's definitely one of the best in Japan. And here in Oita Prefecture, "chicken fried in the air" and "chicken tempura" are the specialties.

So, I visited "Nakatsu-Karaage" in Nakatsu City, Oita, which is considered to be the "holy land of Karaage" and more than 40 specialty shops compete for the taste.



Afterword)
The word "Karaage" is often written as "Chinese-fried", so if you think it has Chinese origin, it's not so.





It looks like the usual "Karaage". I sniffed it and it smelled just as delicious as I thought it would. Try it, hmm? It's usually good. Although it's cooled and hardened, it still has a chewy texture reminiscent of Jidori chicken. I wrote that the deliciousness is "normal", but it might be different if you compare the taste. It is characterized by the crispiness of the oil and the texture of the chicken. Well, maybe people who eat a lot prefer this simplicity. No, no, this simplicity is the classic.

In addition to the boneless version, the shop also sells chicken wings, nankotsu, and sunazari.