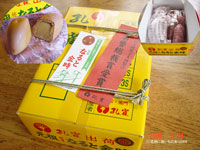 Originator Confectionery Naruto-Kintoki
Home > Tokushima

Co., Ltd. Kasho Kujaku
563 Aza Higashihama, Minamihama, Muya-cho, Naruto City, Tokushima, Japan

Category: fresh confectionery
Product Name: Originator Confectionery Naruto-Kintoki
Raw Materials: Sweet potatoes, brown sugar, sugar, cream (dairy products), butter, chicken eggs, flour, white kidney beans, baking powder

#) Sweet potatoes are rich in vitamin C.
Originator Confectionery Naruto-Kintoki

Naruto-Kintoki, a specialty of Tokushima Prefecture, is a delicious sweet potato known throughout the country for its bright red skin and yellow body. The name was given to this sweet potato because its taste is similar to that of kintoki beans, and the fields in Naruto, where the sea sand is rich in minerals, are suitable for growing this sweet potato.

Then, a sweet imitating this sweet potato called "Confectionery Naruto-Kintoki" appeared. I was so curious to find out what kind of sweets it was that I ordered it.




When I opened the package, what came out was a bun in the shape of a baked sweet potato. And the smell is the texture of a normal Tokyo hiyoko type bun. When you try it, there is a yellow bean jam inside, which you can see the starch of the sweet potato, and you can smell a little bit of sweet potato, but it's not so sweet. Well, if you are shown only the manjuu (steamed bun) without knowing anything, you might think that it is a normal and simple manju.

Well, it's just a candy modeled after the Naruto-Kintoki potato, but the box and the package are very interesting and elaborate. When I get it as a souvenir, I'm like, "What the hell! and enjoy being surprised just a little bit. It's gag-like, or rather, almost gag-like. I don't think there will be any repeats, so I don't know how long I can keep it up.