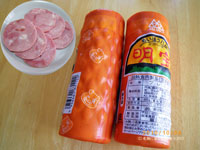 Meiho-Ham
Home > Gifu

Meiho-Tokusanbutsu-Kako Co., Ltd.
47-3, Meiho-Kera, Gujo City, Gifu, Japan

Category: Press Ham
Raw Materials: Meat (domestically produced pork), Joints (domestically produced pork, starch), salt, sugar, spices, seasonings (amino acids, etc.), phosphates (Na, K), colorant (Na sulfite)

Best-Before Date: About 50 days
Meiho-Ham

If you go to the supermarket to buy a ham, most of them are sliced ham, and if you buy it and eat it, it's usually (no, quite) delicious. However, when I ate a lump of loin ham that I received as a gift, I found it to be very tasty. That's different from the one at the supermarket.

It seems that many hams are made by injecting pickle liquid (seasoning liquid) to increase the quality and quantity, and that's what you'll find in supermarkets. If you eat it all the time, you won't notice it, but if you compare it with a good quality loin ham, you can clearly see the difference. But when I looked for a lump of loin ham at the supermarket, I couldn't find it, except for Bon Festival and New Year's Day...

One day, I was watching TV and saw that Meiho-Ham, a local specialty, was being sold in a supermarket in Gifu Prefecture. So I ordered it. Incidentally, I heard that the similarly named Myogata-Ham is also the same one, if the original is correct.




Meiho-Ham is a pressed ham, a kind of sausage ham that we used to see a lot in the past. A quick glance at the cut shows that it is different from a roast ham in that what was once broken apart has been recombined. ...that's what a press ham is.

When I stopped quibbling and tried it, it was chewy, not like a sausage, but more like a loin ham. Unlike loin ham, which has a pure flavor, there is an atmosphere in which the seasoning is superior, but this is not one of the flavors. When I tried the baked Meiho-Ham later, it was more chewy and had a thicker flavor. It looks like it would go well with fried rice. Yeah, not bad.



Afterword)
The feature of Meiho-Ham is that it is made in the old-fashioned way, using only high quality domestic pork thighs. There are no preservatives, colors, antioxidants or bulking agents. After slaughtering the meat, the fine streaks are removed by hand, one by one.