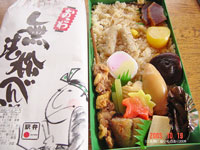 Muhomatsu-Bento (Kitakyushu Kokura Station)
Home > Fukuoka

Kitakyushu station bento Co., Ltd.
3-11-6 Shimotomino, Kokurakita-ku, Kitakyushu City, Fukuoka, Japan

Category: Bento
Product Name: Okowa Muhomatsu-Bento
Raw Materials: okowa (rice, glutinous rice, gingko, etc.), spanish mackerel grilled with miso, grilled chicken, simmered bamboo shoots, simmered shiitake mushrooms, baby squid, koya tofu, sweetened chestnuts, vinegared burdock, simmered kara butterbur, simmered butterbur, fu, kamaboko, pickles, preservatives (poly-lysine, sorbic acid k, sorbit protein), ...
Muhomatsu-Bento

It is "Muhomatsu-Bento" which I got at a certain ekiben convention. This is a famous ekiben at Kokura Station (Kitakyushu City) on the Kagoshima Main Line. If you think of Kokura in Kitakyushu City, you'll hear about Shogoro Tomishima of "Muro Matsu". It is the protagonist of the famous pre-war painting "The Life of a Lawless Pine". Well, it's a famous story, but I guess many young people today don't know about it. I know the name, but I don't know much about it...

It's been a long time since there were any TV broadcasts or movies about this story because of the change in ethics in the world.




When you open the lid, it's not that gorgeous, but it's a nice looking thing with all sorts of goodies on it. It tasted like a sea cucumber, but it was unexpectedly delicious. The overall taste is mild and simmered, but the accent of Nara-zuke, which is served with a little bit of vegetables, keeps a good balance. As for the rest, the bird and fish are a bit hard and seem to me not so good, but everything else is good. The rice was okowa, a mixture of ginkgo and black kikurage.

Hmm, well, I guess you could say it's an ordinary bento...