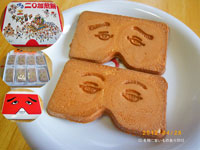 Niwaka-Senbei
Home > Fukuoka

Co., Ltd. Toun-do
6-10-16, Yoshizuka, Hakata-ku, Fukuoka City, Fukuoka, Japan

Category: Baked Confectionery
Product Name: Niwaka-Senbei
Raw Materials: sugar, flour, chicken egg, expander

Best-Before Date: It was about two months later
Niwaka-Senbei

Hakata Niwaka(*1) has been passed down through the Edo, Meiji and Showa periods as a local art form in Hakata. This is a popular culture that has disappeared with the TV era and remains today, just like the local performing arts throughout the country. The Niwaka-Senbei is a rice cracker that imitates Hakata Niwaka's goofy face, which looks like the half of a clown. Well, I don't know what it tastes like...

(*1) They wear masks with funny expressions, speak in the traditional Hakata dialect, and end with a funny comedy.




This festive and flashy box makes me feel like I'm getting a souvenir even though I bought it myself. When I opened the box and took out the sembe from the bag, I found that it was very good. It looks like each face has a different expression~. The square-faced rice crackers are about the size of a business card (it seems that there are various sizes depending on the type of products of each company), and they have the color and aroma of the common Kawara senbei type.

The richness of the look on their faces filled me with trepidation, but when I took a bite, I found the flavor to be like charred starch syrup, with a slightly firmer texture than a biscuit. Yes, I guess it's like a kawara cracker. It's sober, but once you start eating it, it's hard to stop.

Oh, there was a paper mask in the box... Go ahead and play with this, children.