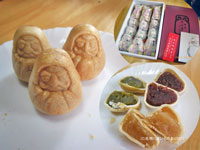 Okiagari-Monaka
(Three types of assortment)
Box of 15 pieces
Home > Gifu

Okiagari-Honpo
5-4 Yanagase-dori, Gifu City, Gifu, Japan

Category: Japanese Confectionery
Product Name: Okiagari-Monaka
Raw Materials: Red Beans, Teshoba (with kinton an-an), Sugar, Chestnuts (used only for large chestnuts), Green Tea (with green tea an-an), Kanten, Glutinous Rice
#) No preservatives, artificial colorants, or bleach are used.

Best-Before Date: About 20 days (usually within 3 days after opening, and within 2 days during the rainy season)
Okiagari-Monaka

When I was looking for a souvenir of Gifu, I found a monaka called "Okiagari-Monaka". In Fukushima, the Aizu region's awakening kohoji has recently become especially famous thanks to the Democratic Party's Kōmon-sama, but there was something similar in Gifu. Recently, Japan has been experiencing a series of misfortunes (including the 3.11 earthquake). Let's eat the auspicious Dharma-shaped middle, calm down, heal, and get up.




The Dharma-shaped monaka, about the size of a ping-pong ball, comes in three types: kokura-an, matcha-an, and kinton-an, each with its own personality. The matcha was the most popular Monaka in my family, even though I somehow mistook it for a grape flavor. That's why I'm voting for this one. The other kokura-an and kintonan are also usually delicious, but this is, you know, pretty sweet.

Well, that's right, the Monarchs are more about good luck than good taste.

Now that I'm an adult, I feel that it's an indispensable thing, and it's the only way to have a middle-aged person. The collaboration of the exquisite taste is very good.