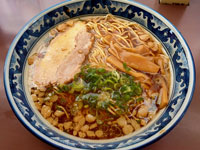 Onomichi Ramen
Home > Hiroshima

Kurata-Shokuhin Co., Ltd.
1-32-49, Higashiteshiro-cho, Fukuyama City, Hiroshima, Japan

Category: raw ramen
Raw Materials: noodles[ Flour, whole egg flour, wheat gluten, salt, brine, alcohol ]
soup[ Soy Sauce, Pork Fat, Lard, Stomach Extract, Reduction Water Diet, Fish Sauce, Seafood Extract, Sugar, Garlic, Onion, White Pepper, Seasonings (Amino Acids, etc.), Caramel Color, Antioxidant (V.E.) ]
(Some ingredients include wheat, eggs, beef, soybeans, chicken, pork, and gelatin)
Onomichi Ramen

I was looking for a specialty in Hiroshima Prefecture and came across this Onomichi Ramen. So, when I looked into the local ramen, I found out that it was a dark soy sauce ramen with plenty of small fish from the Seto Inland Sea, with medium-thin noodles and minced pork back fat floating on the surface.

Shite Onomichi Ramen is eaten in the eastern part of Hiroshima Prefecture, from Onomichi to Fukuyama, but I couldn't go to Onomichi this time, so I went to order it.




[ It was made by our chef, and it's not very good at all... ]

I tried the finished ramen, and it was delicious. The dark color of the soup gives it an indescribable flavor. I've never had a taste like this before... I don't know, this taste is so strange. Is this the hidden flavor of the small fish soup stock or the flavor of the malkin soy sauce? And the flat noodles of the medium-thin is the feeling that it was glutinous, and the black soup is entangled in these white noodles, and the taste is also thick, and there is no feeling of discomfort by eating the back fat that floats on the surface of the soup. I've eaten all the soup too.

Sometimes local ramen has a strong individuality, which makes you wonder why, but this time, it's basically soy sauce ramen, so maybe it's suitable for everyone. Well, on the other hand, it may not stick in your mind at all.



Afterword)
In fact, there is no definition of "Onomichi Ramen" in Onomichi, as each restaurant has its own unique ramen. My sense is that there must be an Onomichi Ramen in an obscure old-fashioned diner in front of the station.

After that, as NHK said, Onomichi has an old-fashioned Onomichi Ramen. It's characterized by minced pig's back oil, soy sauce, and chicken-based broth. Some shops also use small fish from the Seto Inland Sea.