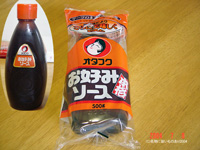 Otafuku Okonomi Source
Home > Hiroshima

Otafuku Source Co., Ltd.
7-4-27, Commerce and Industry Center, Nishi-ku, Hiroshima City, Hiroshima, Japan

Category: Rich sauce
Raw Materials: vegetables and fruits (tomatoes, onions, apples, dates, etc.), sugars (sugar, glucose and fructose), brewed vinegar, amino acid solution, salt, starch, sake, soy sauce (brewed), Worcestershire sauce, spices, oyster extract, mushroom, yeast extract, meat extract, kelp, scallop extract, shiitake mushroom, fish meat extract, protein hydrolysate, seasonings (amino acids, etc.), caramel color, polysaccharide thickener, (some ingredients include wheat, soybeans, chicken, pork, thighs and apples)
Otafuku Source

Otafuku Source, well, I know Otafuku Source for some reason, but the one we have at home is Bulldog Source. How do I know this name...? Come to think of it, the sauce at the okonomiyaki restaurant is Otafuku Source.

So, is Otafuku Source good enough to use at home? We use Worcestershire sauce in our house. In contrast, Otafuku Okonomi sauce is a rich sauce.

In addition, Worcestershire sauce was born in England, brought to Japan, and was improved to suit the Japanese.




Well, I tried the Otafuku okonomiyaki sauce over cabbage, and there was a tingling sensation at first, but then it was gone. But I don't see that much difference~. When I tried it with the bulldog sauce, I could feel the taste as well as the pungency. After all, Otafuku Source may show its power to cook or heat dishes such as "okonomiyaki". There's also some sweet taste.

So, it's not suitable for ordinary cooking. Well, it says "okonomiyaki" sauce from the beginning, so maybe it means you can use it for "okonomiyaki". By the way, Otafuku Source is also making regular Worcestershire sauce.

You know, I'm kind of worn out.



Afterword)
Come to think of it, bulldog sauce is commonly used in the north of Kanto area, but it seems that there is a large number of sauce makers in Japan.

For example, Kagome Source (Nagoya) in the Chubu and Tokai regions, Squid Resource (Osaka) in the Kansai region, and Otafuku Source (Hiroshima) in the Chugoku region. In addition, there are also some source makers that are rooted in each prefecture, which is quite interesting. Each region comes back with different answers to the question of source.