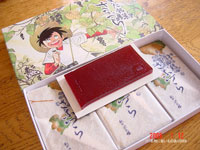 Sanpei Sanazura
Home > Akita

Co., Ltd. Kashiho Eitaro
9-11 Koyosaiwai-cho, Akita City, Akita, Japan

Category: fresh confectionery
Product Name: Sanpei Sanazura
Raw Materials: sugar, jam, mountain grape juice, agar, grape skin color, souring agent
Sanazura

In Akita, it seems that the price of "sweets for errands (gifts)" is fixed with Eitarou (owned by Eitarou Sohonpoku in Nihonbashi). Apparently you can't go wrong with Etairou (maybe a minority opinion?). . And I heard that the signature product of Eitaro is "Sanazura". I should not forget that I make them at other shops too...

Incidentally, "Sanazura" is said to be the name of Yamabudo in Akita. But Sanazura is no longer Yamabudo, and many people may think of this product. Well, it looks similar to the "Noshi-ume" in Yamagata.




On the box of sweets, there was a cartoon of "Sanpei the fisherman" going through a forest of mountain grapes.

When I tore off the wrapping and cut a red canker-like board with the wooden spatula that comes with it and ate it, the sourness and aroma of the mountain grape wafted through the air. It has a very elegant taste, and if you don't know anything about it, you might think it's strawberries. When I eat this, it makes me wonder why there are such sweets. It's called a candy, right? (Confirmation).

I'm not sure if it's good or not. If they say it's a mountain grape, you'll be grateful.



Afterword)
I heard that similar sweets are sold as grape candy in Morioka, and are also made in Tono and other places.

I digress, but it seems that the wife of the great yokozuna Taiho was the heiress of Akita Eitaro. It all started when Dapeng stayed at Eitarou (formerly a Ryokan) on his tour. I see~.