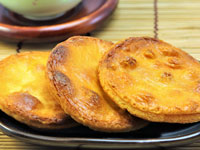 Soka-Senbei/sesame
Home > Saitama

1-1-1 Takasago, Soka City, Saitama, Japan
Soka-Senbei Shinko-Kyogikai

Co., Ltd. Bushu-Honten
1-774 Uetake-cho, Kita-ku, Saitama City, Saitama, Japan
Saino-Kuni Superior Brand Products

Category: rice crackers
Raw Materials: 100% urachi rice, soy sauce, seasoning (amino acids, etc.)
Soka-Senbei

Soka-Senbei" is a specialty of Soka City in Saitama Prefecture. The other day, I saw "Soka-Senbei" on sale in the gift section of a local convenience store that has nothing to do with Soka City, and I thought it was strange. However, in fact, according to the Food Sanitation Registry, the round-shaped, soy-sauce-soaked, baked rice crackers are called "Soka-Senbei", and anything can be called "Soka-Senbei".

But don't worry, there's a proper Soka-Senbei. In Soka City, Saitama Prefecture, there are 60 rice cracker shops, forming a major rice cracker production area, and they continue to send Soka-Senbei to the world even now. Also, the taste of Soka-Senbei is not just a single taste, but has evolved from store to store, creating a variety of personalities.

*) In 2007, Soka-Senbei was registered as a trademark of a local organization. So, I heard that it has some kind of "real" mark on it.




Well, it's no different from the rice cracker I always eat... But it's delicious. The feeling of the soy sauce sticking to your hand makes you think it's a rice cracker again. Ugh, you can't stop at one piece. It's almost time for dinner... I'm scolded (three sheets are enough calories for one cup of rice). Taste? Even if you don't write it, you'll understand.

Just in case you're a gringo, it sounds crunchy and a little hard, and yes, it's not like a cookie either, but it's not that hard when you chew it. The basic ingredient is rice, which is coated with soy sauce to make it savory. Oh, the sesame seeds on the side dish add more flavor to the dish.

Actually, the one I ate wasn't from Soka City. It was at Soka-Senbei near Soka (in Saitama Prefecture). I'm sorry.



Afterword)
The local connoisseurs call the white senbei without freshly baked soy sauce on it "Shirayaki", and to some extent they like it. In addition, the most delicious senbei is the one that is baked after the dough has been sun-dried. When it was sun-dried, it already had a wavy shape.

These days, they also sell cracker soup that imitates someone else's, decorative rice crackers (for baking by yourself), and raw rice crackers.