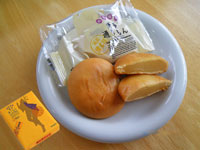 Hakata-Torimon
Home > Fukuoka

Co., Ltd. Meigetsu-Do
11-23, Higashinaka 2-chome, Hakata-ku, Fukuoka City, Fukuoka, Japan

Category: Baked sweets
Product Name: Hakata-Torimon
Raw Materials: White bean paste, sugar, flour, maltose, butter, eggs, condensed milk, skimmed milk powder, cream, oligosaccharide, starch syrup, honey, expander, milk powder
(Apparently, trehalose was added to the raw material labeling in 2007.12)
Hakata-Torimon

Whenever I think of souvenirs from Fukuoka, I think of "Hakata-Torimon". So, I heard that the people who play shamisen and flute drums in the Hakata Dontaku festival are called "mori-mon". The source of the name of this candy is obvious.

Looking at the images of the sweets on the shop's website, it looks delicious. I guess looks are important after all. For example, fruits look delicious when they ripen, and rotten ones (often) look bad.




When I took out the bag and took a bite of the orange, round and soft Hakata-Torimon, it smelled like cheese and had a little clear yellowish bean jam inside. I thought it was some kind of jam-like sauce, but it was not, it was more like a raw confectionery, like a cheesecake. It's a Japanese name, but it's a Western-style candy, isn't it. This is good.

Afterwards, while eating, I felt the heat in my lips. I thought, "What's going on?" and found that there was a small package of Ageless (oxygen absorber) inside the bag, which was sticking to the sweets without my knowledge. Oh, don't worry, you won't eat it by mistake.

p.s.
At a later date (2010), I had the opportunity to eat it again. Then the ageless wrapping was tightly attached to the bag and had been modified so that it would not stick to the sweets. No, it's good again.



Afterword)
In 2017, 7-Eleven's "Milk An Man" has become a hot topic because it looks like "Hakata-Torimon". I don't know how long it can exist, but if you'd like, please do.