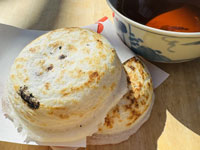 Umegae-Mochi in CHIKUZEN-DAZAIFU
Home > Fukuoka

Kasanoya
2-7-24 Saifu, Dazaifu City, Fukuoka, Japan

Category: Umegae-Mochi
Raw Materials: Glutinous rice, urukchi rice, red beans, sugar, salt
Umegae-Mochi

When I was walking around Dazaifu's Temple Town a long time ago, I remember wondering what the hell was going on in front of this Umegae-Mochi shop. Apparently, it is made by mixing glutinous rice and ordinary rice, kneading it, and baking it with anko inside. I wonder if the reason for adding regular rice is so that it doesn't become hard.

Origin. When Sugawara Michizane was living in misfortune at Enokidera, an old woman named Jomyo nun sympathized with Michizane's situation and sent this rice cake with a plum branch, which is the origin of Umegae-Mochi.




This rice cake is a unique kind of rice cake. The skin is so thin that you can see the anko inside through the skin. The skin is, of course, a rice cake, and when you try it, the skin is very chewy, and the anko inside is also very good. At first glance, it looks like a manjuu, but when you eat it, it's a rice cake. Yeah, this is good. By the way, it doesn't taste like plums at all, and since it's a real rice cake, I don't think it will last long.

The picture is a crumbled rice cake, it's hard to see, but I heard that the baking mold pressed on the surface of the rice cake is made of ume plums. It must have been plump at first, but when I brought it home, it was crushed. I'm sorry.



Afterword)
Umegae-Mochi usually uses white rice cakes, but on the 25th of every month, they use a special rice cake with mugwort. That's because Michizane Sugawara's birthday is June 25 and his death date is February 25, making the 25th a special day. So, only on this day, the rice cakes with mugwort will be in the store.