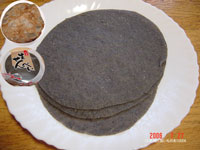 Sanriku specialty Yamada-Uncooked-Senbei
Home > Iwate

Ota-ko-shoten
7-11 Chuo-cho, Yamada-machi, Shimohei-gun, Iwate, Japan

Category: fresh confectionery
Product Name: Yamada-Uncooked-Senbei
Raw Materials: rice (uruchi rice), sugar, sesame seeds, salt, soy sauce, seasoning (amino acids, etc.), some of the ingredients include wheat and soybeans.
Yamada-Uncooked-Senbei

There are many "wet rice crackers" in the world, but the Uncooked-Senbei Rarely. And when we were traveling along the Sanriku coast, we found a specialty rice cracker in Yamada-cho that was a huge, pitch-black It was a curiosity called "Uncooked-Senbei". And the more I looked at it, the more I wondered? It was so black that I couldn't imagine the taste of it. Hmm, they don't look good. Next to them are softly baked rice crackers made by the same manufacturer, which look delicious. I did, but...




Uncooked-Senbei, a little larger than the palm of an adult's hand, is about 10 pieces in a bag, sticky It was sticky and wrapped up. The smell was of sesame seeds, more greenish-gray than pitch-black, interspersed with black dots of crushed sesame seeds. It's a rare sight to see. When it's time to get started, it takes a bit of effort to pull off one of the pieces, and when it finally bites down and pulls off, it's like... Mmm, that's the feel of a rice cake! In a word, it could be called a hardened sesame cake.

So I reconsidered and tried baking it in the oven, and it was crispy and savory. Whether it's good or not may be a matter of personal preference. But when I looked up, I found that my wife liked it. Hmmm, it's a strange "Yamada-Uncooked" where simple ingredients and sophisticated shapes live together. I think it's "Senbei"!