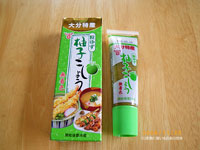 Yuzu-Kosho(Grit yuzu)
Home > Oita

Fundokin-Shoyu Co., Ltd.
501 Usuki, Usuki City, Oita, Japan

Category: Yuzu-Kosho
Raw Materials: green yuzu, green chili pepper, salt, sake
Best-Before Date: 1 year (sooner after opening)

Used as a condiment for miso soup, one-pot dish, rice with water, sashimi, soup, somen, udon, soba, etc.
Yuzu-Kosho

Yuzu-Kosho is often seen in TV commercials these days. In fact, although it has a name of pepper, it is a completely different product from the common pepper. In Kyushu, green chili peppers are called kosho, and the mixture of yuzu and green chili peppers is called yuzu-kosho. What's more, both of them are made from raw materials, in the form of a paste.

By the way, Yuzu-Kosho is a common seasoning used at home in Kyushu, and it can be added to everything. Originally, it is said to have originated in Hita City, Oita Prefecture, but now it is a Kyushu flavor that is produced all over Kyushu and is commonly made at home. These days, it's maked and sold by a major maker in Japan, so maybe it will become a common thing soon.




I bought the famous "Fundokin" (gold mark in the fundou) in Kyushu. Well, it's an attractive company name. Why, why such a name.

Hmmm, it looks similar to freshly kneaded wasabi. When I took the lid off, it smelled good. I can smell the strong smell of yuzu! I don't smell green peppers, no, I don't know what they smell like.

For now, today's lunch, I put the udon into the kitsune udon (cup noodles) and sipped the udon, which smelled faintly of yuzu. The next time I sipped the soup, I could smell the aroma of yuzu...it was a nice touch. At first I couldn't imagine it and was hesitant to put it in, but when I tried it, it wasn't even manzala. I usually leave a little bit of soup at the end, but this time I drank it all down.

This is good. I'm going to put it in pickles too. It's cheaper than raw yuzu, and it's great because it lasts longer.



Afterword)
Later on, I tried the one made by a nationwide maker several times, but this one was different. I didn't like it.