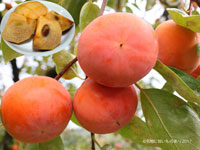 Fuyu-Persimmon
Home > Gifu

JA Gifu
37 Tsukasa-machi, Gifu City, Gifu, Japan

Kind: Sweet persimmon
Harvest Season: Late October - November
Fuyu-Persimmon

Fuyu-Persimmon (Fuyu-Kaki) is now being grown all over Japan and around the world. It is large, well-shaped, and has a good color and taste, so it has spread throughout the world. It was originally made in Gifu Prefecture and has become a specialty of Gifu Prefecture, but it is now so widely used in Japan that it may not sound like a specialty at all.

Fuyu-Persimmon is a type of sweet persimmon that is already sweet when it is hard as a tree. More than half of the Japanese market is made up of Fuyu-Persimmon (2004). Well, let's try it.




When I cut the Fuyu-Persimmon, I found that there were a lot of sesame seeds at the tip. It was crispy, crispy and delicious. The seeds are surprisingly large and firm and hard. The skin is reddish, but the flesh has a whitish texture. If anything, it's understated sweetness and elegance.

This large, crisp, sweet persimmon. Maybe they eat it as a salad in foreign countries... It doesn't need to be astringent, and since it's not soft, it's easy to distribute. I can't say enough about all of them. There is nothing to write about.