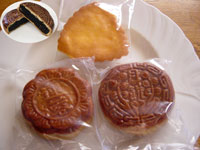 Geppei (Yokohama Chinatown)
Home > Kanagawa

Co., Ltd. Ohara-Shoji Koko-Shokuhin
3-12-1, Matsukage-cho, Naka-ku, Yokohama City, Kanagawa, Japan

Product Name: lotus Geppei
Raw Materials: Lotus seed bean paste, sugar, flour, white crest oil (including soybeans), starch syrup, egg, food vinegar, K carbonate, Na carbonate

---
Product Name: Red Bean Geppei
Raw Materials: Red bean paste, water candy, wheat flour, sugar, vinegar, egg, white herring oil (including soybeans), K carbonate, Na carbonate

---
Product Name: Coconut Geppei
Raw Materials: Flour, sugar, red bean paste, egg, coconut, butter, milk, expander, egg
Geppei

Yokohama is a Chinatown. When you think of Chinatown, you think of Chinese food. Nowadays, Geppei is sold everywhere, but most of them are orthodox. Actually, there are many kinds of Geppei, and as far as I could see, there were about 10 kinds of Geppei in this shop. As you might expect from Yokohama Chinatown, it's wonderful.




[Lotus]
It has become a Geppei in the shape of a flower. It has a moist crust with a thin, azuki-brown bean jam inside, and it is delicious. By the way, Geppei is called Mid-Autumn Geppei, which is eaten with family during the famous moon of Mid-Autumn, and it is said to make red bean paste with "lotus seeds". I'm talking about Chinatown and China. Well, that means it's a lotus fruit (?) A lotus fruit tastes like this...
I thought it tasted like something I'd eaten somewhere, but it was nothing, it was Geppei after all. I don't have a chance to eat the fruits of the lotus anywhere else...

[Azuki bean paste]
It was round in shape and filled with a dark, azuki-colored, firm filling. The taste inside is slightly different, but it is still Geppei's taste. The unique texture of Geppei seems to be the texture, taste and aroma of nuts.

[Coconut]
This one had a curved, shell-like surface at the bottom and a flat triangle at the top. I thought that only the surface was white, but the inside was also white, and there seemed to be no red bean paste in it. When I tried it, it was like a moist cookie, and it seemed to have something crispy (coconut, maybe) in it.

All of the Geppei's this time are understated sweetness, light and elegant. No heartburn.

p.s.
This word is "-Su". It has also appeared in Okinawan "Mango-Su and Ryukyu-Su biscuits" and Taiwanese "pineapple cake (feng-liu-Su)".