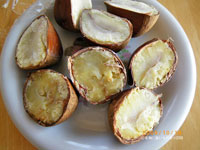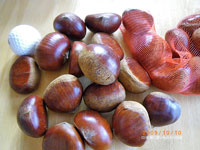 Chestnuts from Ibaraki
Home > Ibaragi

JA Ibaraki-Chuo
146 Iigo, Kasama City, Ibaraki, Japan

Place of production : Ibaraki
Grade: Excellent
Size: 4L
Contents: 1 kilogram
Season: September-October
Kind: unidentified

It is a standard of 4L, most of them are around 5cm and over 5cm is also rumbling. Still, the maximum is 5.2 cm.
Kasama's Kuri

Chestnuts(Kuri) are distant if you live in an urban area, but they are grown, planted, or cultivated in mountain forests, home gardens, and chestnut forests all over the country.

When we think of chestnuts, we think of mountains, but for some reason, the flatland prefecture of Ibaraki boasts the largest volume of chestnuts shipped. According to the national crop statistics for 2008, Ibaraki, Kumamoto, and Ehime were 5030t, 3220t, and 1990t, respectively. There are also various types of chestnuts, such as Tsukuba, Tanzawa and Gin-yori. Generally speaking, there are many varieties of chestnuts in Japan that are resistant to pests and diseases (in order to combat the pest, the hornets), but there are few varieties that have thin skins and are easy to peel, such as the Chinese sweet chestnut, Tianjin. But recently, I heard that a new variety (Polotan) has been developed which is easy to peel off the astringent skin.




I bought the largest 4-litre chestnut among the Ibaraki chestnuts on sale. It was so big that the family was amazed at its size (bigger than a golf ball) that they wondered if they should sell it under the name "Can you see this family crest?

I didn't know how to cook it, so I bought it and immediately boiled it at random. The smell of boiled chestnuts has a distinct smell to it, doesn't it? I think it smells like astringent skin. This big chestnut has hard skin, so it is very difficult to peel it. Especially the rough part of the buttocks is persistent. Even when we finally peeled it off, the astringent skin inside was still stubborn. I gave up on it and tried to eat it with astringent skin, and it was crispy and delicious. But it was definitely blander than the regular-sized chestnuts I had the other day. I guess everything is better in moderation.

Eventually, I got tired of peeling them any more and decided to cut them in half and eat them with a spoon. It's a good one after all. It's hard to cut it in half when it's so big, though...



Afterword)
[ A common way to eat ]

Dry the chestnuts for 2 to 3 days (to increase their sweetness).
Put the chestnuts in a large pot of boiling water and simmer for about 40 to 50 minutes.
When the chestnuts are soft, turn off the heat and drain the water.
Cover and steam for 5-10 minutes (to soften the skin) and voila!
Another method is to sweeten raw chestnuts by keeping them at a low temperature for several weeks. In some cases, this method seems to have been done in advance by the producers themselves.

[ Easier way to eat ]
To avoid bursting, cut into pieces (until they reach the berries) and cook in a microwave oven (700W) for 2 minutes or in a toaster oven (180C) for 15 minutes.

[ Kasama's Kuri ]
Later, chestnuts from Kasama City in Ibaraki Prefecture were introduced in a program on NHK. In summary, the following.
Chestnuts of the Tanzawa variety have a good color when the fruit turns yellow.
Roasted chestnuts are baked in a pressure cooker like making ponzu, and the skin is easy to remove and delicious. In the fall, it is sold as a specialty here.
I pick up the fallen chestnuts because they are damaged when they are harvested as moths and peeled by a machine.
The chestnuts you pick up will dry out more every day, so you should put them in the refrigerator as soon as you pick them. Here, it is stored at 0°C. When you do that, the starch turns into sugar, and the sugar triples in a month.
They say it takes three years for peaches and chestnuts, but I hear it takes ten years for them to become really good chestnuts.

[ Easy to peel ]
In addition to the aforementioned "Porotan" chestnuts that are easy to peel, a "Porosuke" was recently developed. This was done by the National Agriculture and Food Research Organization (Nori) in Tsukuba City. The harvest period of these two varieties is different, so it is very convenient for them.