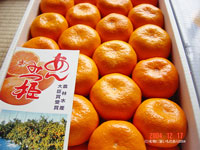 Saga-Mikan Anmitsu-Hime
Home > Saga

Saga Agricultural Cooperative Group Yamato Central Branch
1955 Oaza Higashiyamada, Yamato-cho, Saga City, Saga
Saga-Mikan

It has been a long time since the liberalization of orange imports in 1991, but Japanese people still seem to be attached to Mikan (Unshu-Mikan), which has a thin skin and is easy to eat, and tastes delicate and elegant. If you translate it into English, it's an orange, but I think it's actually a completely different thing. I wish they would stop translating it as orange. A mandarin orange is a mikan...

The Matsuura East Agricultural Cooperative Association is the largest producer of house Mikan in Japan in a single agricultural cooperative, and house Mikan produced in Saga Prefecture has been the largest in Japan for 18 years since 1986. Incidentally, Wakayama, Ehime, and Shizuoka are the three largest producers of Mikan in terms of both name recognition and shipment volume. (2004 Agricultural Statistics).




Try a winter Mikan, it's cold, sweet and delicious. Mikan is so juicy, it quenches your thirst! I don't know if Saga's Mikan is good or not, but Mikan feels good in the winter. It's a little disappointing that the aroma of Mikan in this season (December) is a little lost. But the slightly blue Mikan that comes out in the fall is very fragrant and I can't wait to try it.



Afterword)
Mikan emits ethylene gas that promotes plant ripening, so if you want to store it, take it out of the box or bag and place it in a cool, dark and well-ventilated place. If refrigerating, wrap or bag them to prevent ethylene gas from getting into other vegetables and to retain moisture.