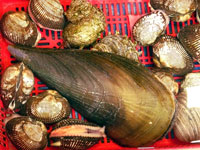 Ariake Sea sushi with a topping of Tairagi
Home > Saga

Oura fishermen's cooperative association
530-3, Oaza Oura Hei, Tara-cho, Fujitsu-gun, Saga, Japan

Omuta station lunch Co., Ltd.
2-1-8 Kubota-machi, Omuta City, Fukuoka, Japan
Product Name: Ariake Sea sushi with a topping of Tairagi
Raw Materials: Rice, Scallop, Red shrimp, Clam, Pickled mustard, Scallop, Crab flavored fish meat, Ginger, Egg, Vinegared lotus root, Takano tofu, Shiitake mushroom, Agar, Soy sauce, Mirin, Sake, Salt, Vegetable oil, Brewed vinegar, Sugar, Seasoning, Carbonic acid, Phosphate, Sodium acetate, Antioxidant, Emulsifier, Acidifier, Polysaccharide thickener, Calcium chloride, Gelatinizer, Preservative, Bleaching agent, Color, Sweetener, Flavor
Tairagi

The reclamation of Isahaya Bay has long been a controversial issue in the Ariake Sea. The Inland Sea, with its precious topography (shallow sea), is truly a treasure trove of marine products. However, the precious shellfish "tairagi," which is a specialty of the Ariake Sea, has become almost non-existent (after the reclamation project) and is now in a serious condition.

In the beginning, the issue of the reclamation of Isahaya Bay, which was frequently covered in the news, is no longer covered by any media, but the local newspaper, Saga Shimbun, did a feature on it in 2005.




At a station bento "Ariake sea scallop sushi". On the wrapping paper of the ekiben, which was written on a white paper with handwritten calligraphic characters, "Ariake Sea's Kaibashira Sushi" was written boldly. When I opened it up, expecting to see something like this, it was a little too subtle... Where's the gorge on the cover?

I regained my mind and started to work on my lunch. Then, thinly sliced tairagi has a vinegar aroma and looks like a scallop, but when eaten, it is a bit tough and chewy. And when you start chewing it, it's like seafood gum and it's hard to finish. However, when I ate it with rice, it was somehow easy to eat. Why? The rest is, to put it simply, a squid-like taste.

On a slightly different note, the red shrimp on the side of this bento was adorable, and when I tried it, it was really good. Yes, this is good, it's actually the best in this lunch. I wonder if we can change the name to "Kaibashira Sushi and Prawn Push".

Also, the bottom and lid were made of thin wood (like a sutra wood), which combined with the smell of vinegar meshi, smelled like old-fashioned "folded bento".