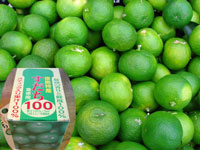 Sudachi 100% fruit juice
Home > Tokushima

JA Tokushima-City
5-71-11 Bandai-cho, Tokushima City, Tokushima, Japan

JA Tokushima-City's production:Sudachi fruit juice

Harvest Season: House cultivation: late March to mid-August, open-air cultivation: early August to mid-September
Sudachi

I heard that there are many small citrus fruits in the southern part of the country that can be substituted for vinegar, and they are called "vinegar mikan" (aromatic citrus fruits). Most people are familiar with yuzu, but here in Tokushima, it's sudachi. Sudachi is not widely used in homes across the country, and I have only eaten it at restaurants and inns.

The sudachi is a close relative of the yuzu (Japanese citrus) and is a vinegared mandarin oranges native to Tokushima. It is the size of a golf ball, dark green in color, and has a unique, refreshing and sour flavor. Apparently, yellowing doesn't change the effect, but the blue ones are preferred because of their appearance. In Tokushima, it's such a popular tree that it's usually planted in the garden at home.




This time, I decided to try a juice that lasts longer (or rather, I got the fruit). When I put it in the barley shochu, it has a lemon-like and lime-like aroma. The product is made into a fruit juice, so it's a little too fresh and doesn't have a citrusy zing. If it were fresh sudachi, I'm sure you'd enjoy the fresh aroma... But it has a unique lime like aroma, which is a nice touch.

Hmmm... I guess it's not so much a Sudachi as it is a fruit juice product. I'm sorry.