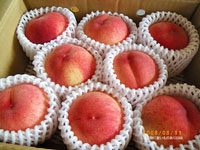 Fukushima's Peach Akatsuki (Excellent)
Home > Fukushima

JA Shin-Fukushima
1-1 Aza Harada higashi, Kitayanome, Fukushima City, Fukushima, Japan

Harvest Season: Late July to early September

Kind: Akatsuki (this is the mainstay), Fuku-Ekubo, Yuzora
Fukushima's Peach

Speaking of Fukushima, there is a road called the Fruit Line (about 14km on the mountainside of the Azuma Mountain Range on the west side of Fukushima City), where the East Japan Women's Ekiden (East Japan Women's Road Relay) is held every year, so when I saw it on TV, the Fruit Line naturally stuck in my mind. As we drove along this road, there were signs saying "Peach, Momo, Pomo" here and there, and it stuck in my mind that "Fukushima = Peach".

Fukushima Prefecture's peach production is the second largest in Japan (Fukushima City ranks first among municipalities in Japan, according to 2005 data), and the prefecture's peaches are harvested and sorted using optical sensors, and the prefecture ships products with the same quality and sugar content.




One day, I received a very large peach as a gift. After looking at it for a while and tasting its aroma (with my nose), I ate it fearfully, and found it to be very juicy and very tasty. I thought a big peach might not taste good, but that's not the case, it tastes good... I still can't forget that, or maybe I'm about to forget it.

The peaches are sorted among the flowers, and the number of trees that will become trees is adjusted to make them grow larger. Well, it should be good (and expensive).

p.s.
Fukushima's Peach is not all that big. (I think it depends on the quality of the year.) When I ate "Akatsuki (Special Shu)" in 2009, it was surprisingly small. But the tokushu's akatsuki was rich and very tasty.



Afterword)
Peaches should not be kept in the refrigerator (or rather, avoided in that situation). Peaches will not taste as good if they are allowed to cool down. It's true. I have failed with this many times. If you want to chill it, just before you eat it, just a little bit. It tastes best in ice water for 15 minutes.
→Recently, aluminum foil preservation.

p.s.2
The dots that appear on a peach's skin are evidence of a sweet peach. Also, the red one tastes better when it's grown in the same place.

p.s.3
The peaches are said to be damaged if touched, and they are not to be touched in the shops or in the peach fields where they are picked for the sake of shopping.