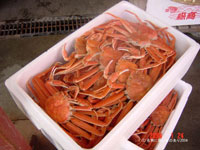 Soma/Matsukawa-Ura Red Snow Crab
Home > Fukushima

Soma-Futaba fishermen's cooperative association
196 Aza Oikawa, Obama, Soma City, Fukushima, Japan

I found a freshly boiled Zuwaigani crab in a seafood shop in Matsukawaura.
Soma Snow Crab

The taste of winter, Snow Crab, reminds me of Matsuba Crab and Echizen Crab from the Sanin to Hokuriku regions, but you can also catch Snow Crab on the Pacific side.

The fishing season is from mid-December to the end of March (in the case of 2008), when the ban is lifted, and by that time, tourists rush to Matsukawa-ura, and the area is bustling with activity without a care in the cold winter. Well, until a little while ago, it was mainly shipped to the Sea of Japan as Hokuriku Echizen Crab (2004 data), but nowadays, local consumption has become popular and it is a resource for tourism.

According to the Fukushima Fishermen's Association, it is mainly Beni Snow Crab that is caught on the Pacific side, which has a brighter red color than Snow Crab and is slightly less fleshy than Snow Crab. Incidentally, the amount of Snow Crab landings on the Sea of Japan side is considerably lower than that of the Sea of Japan, and I heard that it is traded at a high price.




I'm sure you've had Snow Crab before, so let's not say what Snow Crab tastes like. However, the freshly caught and boiled crab is as good as it should be. Something quite different from the frozen ones. The flesh is packed tightly and has a sweet taste. The root of the foot (or shoulder), which is not so tasty when it's frozen, is really delicious when raw Snow Crab is boiled. Ah, but it's expensive.

One day, at a store in another prefecture, Fukushima and Russian Snow Crabs were being sold side by side. When I looked at it, the price of Fukushima was several times higher than that of Russia, and I thought, "Oh!

As an aside, once you have a good Snow Crab, you will be very disappointed when you encounter a bad Snow Crab afterwards. ...to the point of quitting in the middle. That's how much of a difference it makes...as much as the price.