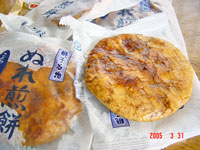 Choshi's specialty Damp Rice Cracker
Home > Chiba

Co., Ltd. Ishigami
9658-1, Takagamihigashi-machi, Choshi City, Chiba, Japan

Product Name: Damp Rice Cracker
Raw Materials: Uruchi rice (domestic), soy sauce (soybeans, wheat), sugar, trehalose, mirin, seasoning (amino acids, etc.)

Best-Before Date: 30 days from date of making
Damp Rice Cracker

When I heard that 'Damp Rice Cracker' was a specialty of Choshi, I wondered why, and to my surprise, it turns out that Choshi is a soy sauce town. Higeta soy sauce and Yamasa soy sauce were established in Choshi in the 1600s and are still being produced here. Choshi is close to the Tokyo area, which is a major consumption area, and is blessed with a good supply of raw materials, and its stable climate is also suitable for brewing soy sauce. By the way, Kikkoman is also located in Noda City near here, isn't it.

Incidentally, let's not forget that soy sauce is still made in different parts of the country. The difference in the taste of local ramen is probably due to its miso and soy sauce.

And if you're talking about sweets made with soy sauce, it's the rice cracker. If you pour soy sauce on the rice cracker, it's called Damp Rice Cracker... The "Damp Rice Cracker" is made by baking the rice until it is just before it becomes a dough, then pouring soy sauce over it while it is still hot. But what about the taste?




Well, it looks like they're going to stick, but they're put in a bag one by one. So when I opened the bag, it smelled fragrant and good. If you try to break it into pieces and eat it normally, it will feel wet and mellow, but it will stick to you (laughs). When I finally took a bite, the soy sauce flavor was quite savory, and although the inside of the damp soy sauce cracker was white, the soy sauce was soaked into the skin to a considerable thickness (2-3 millimeters).

Hmmm, this one is extraordinarily shoddy. You might be able to eat rice with this rice cracker. That's why I'm thirsty too. Ah, the tea is good. It's similar to the feeling of drinking tea while nibbling on pickled vegetables. Just one sheet a day...