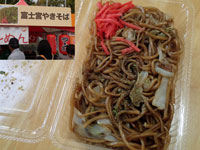 Fujinomiya-Yakisoba
Home > Shizuoka

Yakisoba, a local specialty of Fujinomiya City, Shizuoka Prefecture

At Fujinomiya-Yakisoba's shop, which had a stall at an event in our town (using the Grand Prix winner, Co., Ltd. soga-men).
Fujinomiya-Yakisoba

Fujinomiya-Yakisoba won the B-1 Grand Prix (a popularity poll of B-grade gourmet restaurants in various regions) and suddenly came into the spotlight. Since 2006, it has been covered by the mass media and asked to open a shop at events all over the country, and business seems to be booming. Nowadays, there is even a high-speed bus called "Yakisoba Express" that connects Tokyo and Fujinomiya. I'm sure there are a lot of shops there if you go there.

The features of Fujinomiya-Yakisoba are 1) firm noodles (noodles coated in oil with little moisture), 2) meat scum (leftover lard that has been squeezed and raised in oil), and 3) shavings (usually sardines). Each shop uses noodles from its own noodle factory (there are four noodle makers in the city), topped with its own secret blend sauce, and topped with local red ginger "Mika-chan".




Visually, the noodles are thick. There's shavings on the top. After that, the red ginger is around the edge... Once you try it, you'll find that the noodles are mocchy and nettly like nothing you've ever eaten before, and the base is seasoned with a sweet sauce. The gentle texture of the shavings (maybe because they've cooled down) gives off a knotty aroma that whets your appetite even more, doesn't it? The red ginger that occasionally comes into play dominates the area.

The overall impression is unexpectedly ladylike, but it's the harmony between the meat scum and the blended sauce that gives it an original flavor that draws people in. Mmm, it's somewhat delicious. Somehow, the cabbage is good too. If the cold yakisoba sold in the street is this good, it must be very tasty if you eat it at a famous local restaurant.