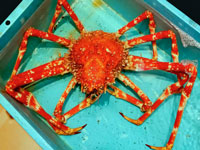 Takaashi-Kani
Home > Shizuoka

Heda-Gyoko
523-9 Heda, Numazu City, Shizuoka, Japan

In Shizuoka, it is caught by bottom fishing (fall to spring) and basket fishing (winter). There is also a move to limit fishing to protect the stock.

It lives in the deep sea on the Pacific side (Tohoku to Kyushu). It's the largest crab in the world...
Takaashi-Kani

Takaashi-Kani is a very large crab native to Japan, and it is a specialty of Toda, Numazu City, where Shizuoka has the largest catch in Japan (according to 2006 data). However, ordinary Japanese people have never eaten "Takaashi-Kani", and many of them may not know about it.

By the way, the big ones are said to be over 3 meters long when they stretch their legs.




[ That was a long time ago ]
"Let's go eat Takaashi-Kani!", there was a one day bus tour from Shinjuku, Tokyo to Toda to eat there for a day.

So, I arrived around noon at a restaurant in Toda's fishing port with a large plate with a medium-sized (or maybe smaller) leg of Takaashi-Kani and a small snow crab leg next to it, compared to Takaashi-Kani. And, given the name of the tour, it's on a pretty poor plate. It was a half-shouldered, half-pleased affair.

I don't remember well, but I remember that it was very elegant and tasty. Yes, it was full of breadcrumbs. And the ones that are steamed rather than boiled like snow crabs. Well, the snow crab we ate together was also delicious. Ah, I want to eat again, but...



Afterword)
Suruga Bay, where Toda Port is located, is said to be the deepest bay in Japan. Recently, deep-sea fish dishes are popular in the local area, and I heard there are also deep-sea rice bowls with them.