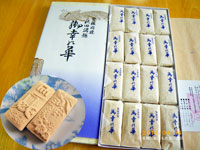 Akita Morokoshi Goko-no-hana
Home > Akita

Co., Ltd. Kashi-ho Eitaro
9-11 Koyosaiwai-cho, Akita City, Akita, Japan

Category: Confectionery
Product Name: Goko-no-hana
Raw Materials: Red bean flour, sugar

Best-Before Date: A little over a month.
Akita Morokoshi

Even the people of Akita Prefecture don't hear of "A Morokoshi" these days. This time, I decided to take the plunge and give it a try. The reason why I don't eat it is because it's so hard. By the way, "Haha, it can't be helped" is a convenient word that often appears in conversation among Akita people, close to "aizuchi".

Akita Morokoshi is a type of raku-gan, a Japanese confectionery made with only red bean flour and sugar, which is different from the usual raku-gan made with glutinous rice. There are many sweets shops in Akita Prefecture that make this Akita Morokoshi, but this time I'm going to try the Akita Morokoshi called "Goko no hana" from Eitaro, a long-established shop in Akita City, which is said to have offered it to the Showa Emperor. Incidentally, the founder of the company is Sugiyama Juzando (Akita City).




When I opened the paper package, I found a light brown square "Morokoshi". On the surface, different pictures are molded in a three-dimensional manner. When I folded it in half and put it in my mouth, I found that it was very hard. But it's not too much to chew. If you lick it casually, it will slowly melt away. It's not so much a rakugan, but this light sweetness and savory flavor is closer to that of a barley starch.

It's a bit too rustic for modern times, but this one is more interesting than I imagined (or heard of). Licking candy! It might be easier to accept it if you put a subtitle of As I thought about it, I ate four of them. After a meal, the table is full of powder.

p.s.
These days, they also sell soft "raw morokoshi"... However, if it were softer, I think the value of this sweets would be reduced by half...